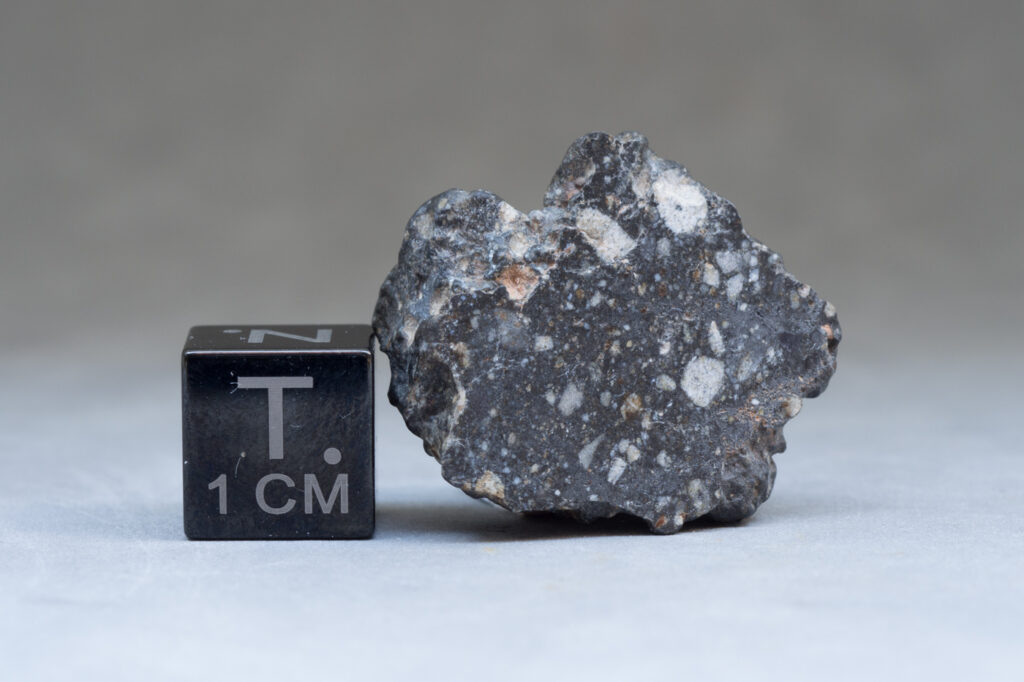 Northwest Africa 10546 (NWA 10546)
(Northwest Africa)
Purchased: 2015 Nov
Classification: Lunar meteorite (feldspathic breccia)
History: Purportedly found near the border between Mauritania and Mali. Purchased by Pierre-Marie Pelé in November 2015 from a dealer in Ouarzazate, Morocco.
Petrography: (A. Irving and S. Kuehner, UWS) Fragmental breccia composed of mineral clasts of anorthite, olivine, pigeonite, augite, subcalcic augite, silica polymorph, ilmenite (with inclusions of baddeleyite), Ti-Al-chromite and rare zircon. Microbubbles are present in parts of the finer grained matrix along with minor secondary barite.
Geochemistry: Olivine (Fa23.1-39.3; Fa86.9; FeO/MnO = 83-95; N = 4), pigeonite (Fs21.7Wo13.9; Fs54.2Wo21.9; FeO/MnO = 52-65; N = 2), augite (Fs13.0Wo37.8, FeO/MnO = 39), subcalcic augite (Fs32.8Wo31.9, FeO/MnO = 49), ferroan augite (Fs51.5Wo40.5, FeO/MnO = 72), plagioclase (An90.3-93.3Or0.4-0.1, N = 2).
Classification: Lunar (feldspathic breccia).
Specimens: A 9.72 g polished endcut piece is at PSF; remainder with Mr. P. Pelé.